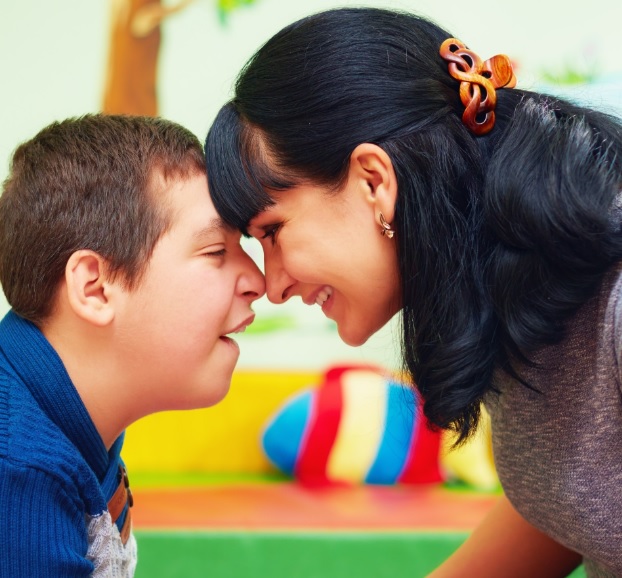 Caregivers are crucial to the team!
The most important information we could ever share with you as a caregiver is that you play an important role in your child's development and services within an academic setting. Do not be afraid to ask questions, to seek understanding of terms or recommendations given by teachers and/or providers. If you do not agree with the recommendations, seek out second opinions on alternative resources that will improve long-term outcomes for your child.
We are here to dispel the myths and stigmas associated with an official diagnosis.
It is important to understand as a parent or caregiver that an official diagnosis is not a label nor defines who your child becomes as they continue to grow and evolve. A diagnosis is a "blueprint" or "roadmap" to help providers identify resources and interventions that your child could benefit from. In the end, you and your child's providers work together as a team, creating a realistic plan to help improve the long-term outcomes for your child.
We are here to give you tools to make informed decisions on behalf of your child(ren).
Neural Divergence, LLC is here to provide individual/family consultation and advocacy tools that will assist you in navigating resources within your local community and with your school district. We want to empower you with knowledge and information that is beneficial for your family along this beautiful journey in life and to learn how to discover, connect, and nurture your child's gifts.
If you have any questions, we are here to help you and to refer you to appropriate resources within your local area.
We offer individual consultations and opportunities of learning.
We are here to assist you in cultivating productive and authentic relationships with organizations that serve your child, recognizing the need for culturally informed and equity-based solutions in advocacy. We offer individual consultation and advocacy, building upon their knowledge base. From a parent perspective, your role and recommendations matter!
The most challenging situations arise when there is miscommunication or misunderstandings during a team's decision-making process that occurs during the Admission, Review, Dismissal (ARD) meetings. We recognize the importance of bringing clarity to conversations that can become murky and convoluted, especially when individuals become anchored in their thoughts or aren't sure of the alternatives or concepts behind specific recommendations.
While communication is extremely important, Neural Divergence, LLC also recognizes the need for openness in seeking understanding of different cultural perspectives. Seeking understanding not only adds value to any professional relationship but provides an authentic pathway to connect with families, meeting them where they are at the moment.
We are Here to Give You Conflict-Resolution Tools.
Neural Divergence, LLC is here to assist you in cultivating positive relationships with schools and other organizations. We want to support you and empower you with knowledge and information that is beneficial in navigating resources for your child, equipping you with conflict-resolution tools.
ADA (Americans With Disabilities Act)
The Americans with Disabilities Act (ADA) became law in 1990. The ADA is a civil rights law that prohibits discrimination against individuals with disabilities in all areas of public life, including jobs, schools, transportation, and all public and private places that are open to the general public. The purpose of the law is to make sure that people with disabilities have the same rights and opportunities as everyone else. The ADA gives civil rights protections to individuals with disabilities similar to those provided to individuals on the basis of race, color, sex, national origin, age, and religion. It guarantees equal opportunity for individuals with disabilities in public accommodations, employment, transportation, state and local government services, and telecommunications. The ADA is divided into five titles (or sections) that relate to different areas of public life.
Admission, Review, and Dismissal (ARD) Committee
The Admission, Review, & Dismissal (ARD) is the name of the committee responsible for making the educational decisions for a student. An ARD is needed for initial placement or any time the school staff or parents feel a change is needed in a student's special education program.
Autism Spectrum Disorder (ASD)
Autism spectrum disorder (ASD) is a complex developmental condition that involves persistent challenges in social interaction, speech and nonverbal communication, and restricted/repetitive behaviors. The effects of ASD and the severity of symptoms are different in each person.
Individuals With Disabilities Education Act (IDEA)
The Individuals with Disabilities Education Act (IDEA) is a law that makes available a free appropriate public education to eligible children with disabilities throughout the nation and ensures special education and related services to those children.
The IDEA governs how states and public agencies provide early intervention, special education, and related services to more than 7.5 million (as of school year 2018-19) eligible infants, toddlers, children, and youth with disabilities.
Individualized Education Program (IEP)
The Individualized Educational Plan (IEP) is a plan or program developed to ensure that a child who has a disability identified under the law and is attending an elementary or secondary educational institution receives specialized instruction and related services.
Special Education Parent Educator (SPED PE)
A SPED Parent Educator is a parent volunteer with lived experience (caregiver of a child with a disability) who acts as a neutral liaison between the schools/teachers, organizations/providers, and parents. The SPED Parent Educator provides education to parents on the SPED program, understanding the importance of assessments, understanding how to interpret data (what it means), and encourages parental involvement during the ARD process.
Special Education Services (SPED)
Special education refers to a range of services that can be provided in different ways and in different settings. There's no "one size fits all" approach to special education. It's tailored to meet the needs of students with disabilities.
Special education focuses on helping kids with disabilities learn. But it doesn't mean placing kids in a special classroom all day long. In fact, federal law says that kids who get special education services should learn in the same classrooms as other kids as much as possible. This is known as the
least restrictive environment
(or LRE).
Special Education Parent Education Program (SPED PEP)
Special Education (SPED) Parent Educator Program is designed to assist the schools in understanding the needs of parents that are identified through their interactions with parents and taking note of trending issues. SPED Parent Educator provides parental voice through their positive interactions with the school, working towards improving SPED programming and positive long-term academic experiences and outcomes for students while promoting parent involvement through the entire process.
The SPED PEP model is ideal for elementary and secondary schools and other child-service oriented organizations. SPED PEP is an effective model of support for ARD meetings, family/group meetings, and team meeting processes.
We are seeking parent volunteers with lived experience to train, learn, and serve their schools through our Special Education Parent Educator Program as well as help other caregivers whose children have recently received a diagnosis navigate through disability service resources. If you are interested in serving as a Parent Educator for your school, please feel free to fill out the "volunteer" form located on this page. Interested in an Internship? If you are a college student interested in internship opportunities through our organization in serving families of children with disabilities, please fill out the "volunteer" form, indicating you are interested in completing an internship. A staff member will get back to you within 48 hours.
Our volunteers